January 23rd, 2008 | Last modified: November 8th, 2011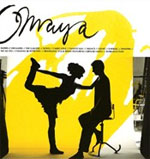 You might know Omaya from the 2nd CD of the 25th Anniversary Café Del Mar album, their beautiful song Novo featured there. My 7th Dreamport mix also contains this little melodic trip to Africa.
My favorite track from the album is I Wanna Be With You and – of course – Novo. Don't forget to prelisten these here. I've had the former track in mp3 for about a year, but (I don't know why) I thought it's called Velvet, which is another track's title from the album. I must admit that I bought this because of these 2 songs, I love them and wanted them in lossless quality.
The other tracks are mostly fine lounge and nu-jazz pieces, not so good as the 2 tracks mentioned above, I think I shall continue to stick with Mystic Diversions in this genre. :) Oh, and I love the last (ambient) track too, interestingly called Introduction.
The cover is a bit dull and does not match the feeling of the album, but at least the lyrics are printed there.
Trackback responses to this post
//} // end separate trackbacks ?>
About me


I'm Nonoo. This is my blog about music, sounds, filmmaking, amateur radio, computers, programming, electronics and other things I'm obsessed with. ... »
Listening now
My favorite artists