Last modified: June 11th, 2007
Fader is a simple video effect generator utility. It creates a slow-motion effect by fading between frames of an animation.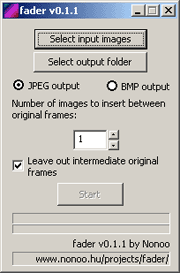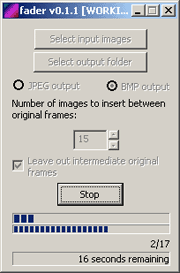 Usage is pretty straightforward. Fader currently supports BMP/JPEG images and it will save the rendered images in those formats.
Put your animation in BMP/JPEG format into a directory, create an empty output dir and start fader. That's all. (You can extract frames from an .avi file using virtualdub)
Example video
Download
Latest version: 0.1.1

License: GPL
You can access the latest development snapshot using Subversion here.
About me


I'm Nonoo. This is my blog about music, sounds, filmmaking, amateur radio, computers, programming, electronics and other things I'm obsessed with. ... »
Listening now
My favorite artists