March 20th, 2008 | Last modified: November 8th, 2011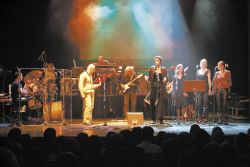 I've quickly finished mastering of my latest live recording of 9:30 Collective & Alien Chatter's concert at Budapest Palace of Arts held on Monday last week.
This time I used Har-Bal for eq balancing and suprisingly it worked great for this lo-fi kind of stuff. This recording sounds much better (but still has the usual problems, muddy low-end etc.), only slight eqing and loudness adjustment were needed after processing.
Trackback responses to this post
//} // end separate trackbacks ?>
About me


I'm Nonoo. This is my blog about music, sounds, filmmaking, amateur radio, computers, programming, electronics and other things I'm obsessed with. ... »
Listening now
My favorite artists