August 4th, 2014 | Last modified: August 5th, 2014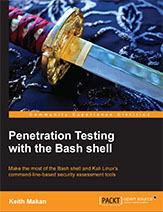 Recently I got another bunch of books to read from Packt Publishing, here's the first one.
It's a very nice, but brief book for those who are not used to the a Linux shell, but familiar with IT security techniques. I feel that the chapters on security are too brief, they don't explain the techniques enough. However, the Bash introduction is very well explained and I can recommend it for everyone who want to try the shell out for the first time.
Trackback responses to this post
//} // end separate trackbacks ?>
About me


I'm Nonoo. This is my blog about music, sounds, filmmaking, amateur radio, computers, programming, electronics and other things I'm obsessed with. ... »
Listening now
My favorite artists