Last modified: March 3rd, 2012
This example records audio and generates the lower sideband signal of it using the Weaver method, and saves it to a .wav file.
The Weaver method is the most complicated one, it uses two quadrature oscillators and lowpass filters. A very nicely illustrated paper on this method can be downloaded here, read this if you want to learn the mechanisms of this method.
For lowpass filtering I used a Butterworth filter. It's cutFreq is 10kHz because it is not very steep, but in an ideal case, it should be samplerate/4. I left the lines for FFT filtering in the code (commented out).
Example resulting signal: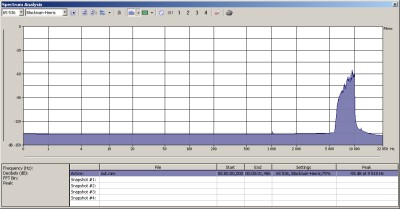 1
2
3
4
5
6
7
8
9
10
11
12
13
14
15
16
17
18
19
20
21
22
23
24
25
26
27
28
29
30
31
32
33
34
35
36
37
38
39
40
41
42
43
44
45
46
47
48
49
50
51
52
53
54
55
56
57
58
59
60
61
62
63
64
65
66
67
68
69
70
71
72
73
74
75
76
77
78
79
80
81
82
83
84
85
86
87
88
89
90
91
92
93
94
95
96
97
98
99
100
101
102
103
104
105
106
107
108
109
110
111
112
113
114
115
116
117
118
119
120
121
122
123
124
125
126
127
128
129
130
131
132
133
134
135
136
137
138
139
140
141
142
143
144
145
146
147
148
149
150
151
152
153
154
155
156
157
158
159
160
161
162
163
164
165
166
167
168
169
170
171
172
173
174
175
176
177
178
179
180
181
182
183
184
185
186
187
188
189
190
191
192
193
194
195
196
197
198
199
200
201
202
203
204
205
206
207
208
209
210
211
212
213
214
215
216
217
218
219
220
221
222
223
224
225
226
227
228
229
230
231
232
233
234
235
236
237
238
239
240
241
242
243
244
245
246
247
248
249
250
251
252
253
254
255
256
257
258
259
260
261
262
263
264
265
266


public

class

SSBWeaver

implements

Runnable

{

private

final

static

int

SAMPLERATE

=

44100

;

private

final

static

int

BUFFERSIZE

=

SAMPLERATE

*

2

;

private

final

static

int

IIR_NZEROS

=

10

;

private

final

static

int

IIR_NPOLES

=

10

;

private

final

static

double

IIR_GAIN

=

3.452507086e

+

02

;

// these are used for the two lowpass filters

private

double

xv_H

[

]

, yv_H

[

]

;

private

double

xv_L

[

]

, yv_L

[

]

;

private

TargetDataLine

tdl

;

//private DoubleFFT_1D fft;

public

SSBWeaver

(

TargetDataLine

tdl

)

{

this

.

tdl

=

tdl

;

}

// IIR Butterworth lowpass filter 1

// see http://www-users.cs.york.ac.uk/~fisher/mkfilter/

private

double

lowPassFilterH

(

double

in

)

{

xv_H

[

0

]

=

xv_H

[

1

]

;

xv_H

[

1

]

=

xv_H

[

2

]

;

xv_H

[

2

]

=

xv_H

[

3

]

;

xv_H

[

3

]

=

xv_H

[

4

]

;

xv_H

[

4

]

=

xv_H

[

5

]

;

xv_H

[

5

]

=

xv_H

[

6

]

;

xv_H

[

6

]

=

xv_H

[

7

]

;

xv_H

[

7

]

=

xv_H

[

8

]

;

xv_H

[

8

]

=

xv_H

[

9

]

;

xv_H

[

9

]

=

xv_H

[

10

]

;

xv_H

[

10

]

=

in

/

IIR_GAIN

;

yv_H

[

0

]

=

yv_H

[

1

]

;

yv_H

[

1

]

=

yv_H

[

2

]

;

yv_H

[

2

]

=

yv_H

[

3

]

;

yv_H

[

3

]

=

yv_H

[

4

]

;

yv_H

[

4

]

=

yv_H

[

5

]

;

yv_H

[

5

]

=

yv_H

[

6

]

;

yv_H

[

6

]

=

yv_H

[

7

]

;

yv_H

[

7

]

=

yv_H

[

8

]

;

yv_H

[

8

]

=

yv_H

[

9

]

;

yv_H

[

9

]

=

yv_H

[

10

]

;

yv_H

[

10

]

=

(

xv_H

[

0

]

+

xv_H

[

10

]

)

+

10

*

(

xv_H

[

1

]

+

xv_H

[

9

]

)

+

45

*

(

xv_H

[

2

]

+

xv_H

[

8

]

)

+

120

*

(

xv_H

[

3

]

+

xv_H

[

7

]

)

+

210

*

(

xv_H

[

4

]

+

xv_H

[

6

]

)

+

252

*

xv_H

[

5

]

+

(

-

0.0000357500

*

yv_H

[

0

]

)

+

(

0.0006094904

*

yv_H

[

1

]

)

+

(

-

0.0061672448

*

yv_H

[

2

]

)

+

(

0.0298428117

*

yv_H

[

3

]

)

+

(

-

0.1344215690

*

yv_H

[

4

]

)

+

(

0.3160380661

*

yv_H

[

5

]

)

+

(

-

0.8283557825

*

yv_H

[

6

]

)

+

(

1.0214778432

*

yv_H

[

7

]

)

+

(

-

1.7026748886

*

yv_H

[

8

]

)

+

(

0.9259874207

*

yv_H

[

9

]

)

;

return

yv_H

[

10

]

;

}

// IIR Butterworth lowpass filter 2

private

double

lowPassFilterL

(

double

in

)

{

xv_L

[

0

]

=

xv_L

[

1

]

;

xv_L

[

1

]

=

xv_L

[

2

]

;

xv_L

[

2

]

=

xv_L

[

3

]

;

xv_L

[

3

]

=

xv_L

[

4

]

;

xv_L

[

4

]

=

xv_L

[

5

]

;

xv_L

[

5

]

=

xv_L

[

6

]

;

xv_L

[

6

]

=

xv_L

[

7

]

;

xv_L

[

7

]

=

xv_L

[

8

]

;

xv_L

[

8

]

=

xv_L

[

9

]

;

xv_L

[

9

]

=

xv_L

[

10

]

;

xv_L

[

10

]

=

in

/

IIR_GAIN

;

yv_L

[

0

]

=

yv_L

[

1

]

;

yv_L

[

1

]

=

yv_L

[

2

]

;

yv_L

[

2

]

=

yv_L

[

3

]

;

yv_L

[

3

]

=

yv_L

[

4

]

;

yv_L

[

4

]

=

yv_L

[

5

]

;

yv_L

[

5

]

=

yv_L

[

6

]

;

yv_L

[

6

]

=

yv_L

[

7

]

;

yv_L

[

7

]

=

yv_L

[

8

]

;

yv_L

[

8

]

=

yv_L

[

9

]

;

yv_L

[

9

]

=

yv_L

[

10

]

;

yv_L

[

10

]

=

(

xv_L

[

0

]

+

xv_L

[

10

]

)

+

10

*

(

xv_L

[

1

]

+

xv_L

[

9

]

)

+

45

*

(

xv_L

[

2

]

+

xv_L

[

8

]

)

+

120

*

(

xv_L

[

3

]

+

xv_L

[

7

]

)

+

210

*

(

xv_L

[

4

]

+

xv_L

[

6

]

)

+

252

*

xv_L

[

5

]

+

(

-

0.0000357500

*

yv_L

[

0

]

)

+

(

0.0006094904

*

yv_L

[

1

]

)

+

(

-

0.0061672448

*

yv_L

[

2

]

)

+

(

0.0298428117

*

yv_L

[

3

]

)

+

(

-

0.1344215690

*

yv_L

[

4

]

)

+

(

0.3160380661

*

yv_L

[

5

]

)

+

(

-

0.8283557825

*

yv_L

[

6

]

)

+

(

1.0214778432

*

yv_L

[

7

]

)

+

(

-

1.7026748886

*

yv_L

[

8

]

)

+

(

0.9259874207

*

yv_L

[

9

]

)

;

return

yv_L

[

10

]

;

}

/*
private void lowPassFilterFFT(double[] audioData, final int storedSamples, final double cutFreq) {
// we need to initialize a buffer where we store our samples as complex numbers. first value is the real part, second is the imaginary.
double[] fftData = new double[audioData.length * 2];
for (int i = 0; i < storedSamples; i++) {
// copying audio data to the fft data buffer, imaginary part is 0
fftData[2 * i] = audioData[i];
fftData[2 * i + 1] = 0;
}

// calculating the fft of the data, so we will have spectral power of each frequency component
fft.complexForward(fftData);

for (int i = 0; i < fftData.length; i += 2) {
// lowpass
if (i > ((cutFreq * (fftData.length/2)) / SAMPLERATE)*2)
fftData[i] = fftData[i + 1] = 0;
}

// built-in scaling hangs the thread, so we don't use it
fft.complexInverse(fftData, false);

for (int i = 0; i < storedSamples; i++) {
audioData[i] = fftData[2 * i] / (SAMPLERATE / 4.0); // applying scaling
}
}
*/

// converts float array to byte array

private

byte

[

]

getBytesFromDoubles

(

final

double

[

]

audioData,

final

int

storedSamples

)

{

byte

[

]

audioDataBytes

=

new

byte

[

storedSamples

*

2

]

;

for

(

int

i

=

0

;

i

<

storedSamples

;

i

++

)

{

// saturation

audioData

[

i

]

=

Math

.

min

(

1.0

,

Math

.

max

(

-

1.0

, audioData

[

i

]

)

)

;

// scaling and conversion to integer

int

sample

=

(

int

)

Math

.

round

(

(

audioData

[

i

]

+

1.0

)

*

32767.5

)

-

32768

;

byte

high

=

(

byte

)

(

(

sample

>>

8

)

&

0xFF

)

;

byte

low

=

(

byte

)

(

sample

&

0xFF

)

;

audioDataBytes

[

i

*

2

]

=

low

;

audioDataBytes

[

i

*

2

+

1

]

=

high

;

}

return

audioDataBytes

;

}

// saves the audio data given in audioDataBytes to a .wav file

private

void

writeWavFile

(

final

byte

[

]

audioDataBytes,

final

int

storedSamples,

final

String

fileName

)

{

AudioFormat

audioFormat

=

new

AudioFormat

(

AudioFormat.

Encoding

.

PCM_SIGNED

, SAMPLERATE,

16

,

1

,

2

, SAMPLERATE,

false

)

;

AudioInputStream

audioInputStream

=

new

AudioInputStream

(

new

ByteArrayInputStream

(

audioDataBytes

)

, audioFormat, storedSamples

)

;

try

{

FileOutputStream

fileOutputStream

=

new

FileOutputStream

(

fileName

)

;

AudioSystem

.

write

(

audioInputStream,

AudioFileFormat.

Type

.

WAVE

, fileOutputStream

)

;

audioInputStream.

close

(

)

;

}

catch

(

Exception

e

)

{

e.

printStackTrace

(

)

;

}

}

@Override

public

void

run

(

)

{

byte

[

]

abBuffer

=

new

byte

[

tdl.

getBufferSize

(

)

]

;

double

[

]

abBufferDouble

=

new

double

[

abBuffer.

length

/

2

]

;

ByteArrayOutputStream

baos

=

new

ByteArrayOutputStream

(

)

;

// this will store sound data

double

osc1Phase

=

0

, osc2Phase

=

0

;

double

carrierFreq

=

10000

;

double

osc1Freq

=

SAMPLERATE

/

4

;

double

osc2Freq

=

osc1Freq

-

carrierFreq

;

// pitch shift is given by the difference between the two oscillators

double

demodPhase

=

0

;

//fft = new DoubleFFT_1D(abBufferDouble.length);

double

[

]

lp_H

=

new

double

[

abBufferDouble.

length

]

;

double

[

]

lp_L

=

new

double

[

abBufferDouble.

length

]

;

xv_H

=

new

double

[

IIR_NZEROS

+

1

]

;

yv_H

=

new

double

[

IIR_NPOLES

+

1

]

;

xv_L

=

new

double

[

IIR_NZEROS

+

1

]

;

yv_L

=

new

double

[

IIR_NPOLES

+

1

]

;

tdl.

start

(

)

;

try

{

while

(

!

Thread

.

interrupted

(

)

)

{

// waiting for the buffer to get filled

while

(

tdl.

available

(

)

<

tdl.

getBufferSize

(

)

*

0.5

)

Thread

.

sleep

(

0

,

1

)

;

// without this, the audio will be choppy

int

bytesRead

=

tdl.

read

(

abBuffer,

0

, tdl.

available

(

)

)

;

// converting frames stored as bytes to double values

int

samplesRead

=

bytesRead

/

tdl.

getFormat

(

)

.

getFrameSize

(

)

;

for

(

int

i

=

0

;

i

<

samplesRead

;

i

++

)

abBufferDouble

[

i

]

=

(

(

abBuffer

[

i

*

2

]

&

0xFF

)

|

(

abBuffer

[

i

*

2

+

1

]

<<

8

)

)

/

32768.0

;

for

(

int

samplePos

=

0

;

samplePos

<

samplesRead

;

samplePos

++

)

{

osc1Phase

+=

(

2

*

Math

.

PI

*

osc1Freq

)

/

SAMPLERATE

;

lp_H

[

samplePos

]

=

abBufferDouble

[

samplePos

]

*

Math

.

sin

(

osc1Phase

)

;

lp_L

[

samplePos

]

=

abBufferDouble

[

samplePos

]

*

Math

.

cos

(

osc1Phase

)

;

if

(

osc1Phase

>=

2

*

Math

.

PI

)

osc1Phase

-=

2

*

Math

.

PI

;

}

// filtering can be done using FFT also

//lowPassFilterFFT(l1, samplesRead, osc1Freq);

//lowPassFilterFFT(l2, samplesRead, osc1Freq);

for

(

int

samplePos

=

0

;

samplePos

<

samplesRead

;

samplePos

++

)

{

lp_H

[

samplePos

]

=

lowPassFilterH

(

lp_H

[

samplePos

]

)

;

lp_L

[

samplePos

]

=

lowPassFilterL

(

lp_L

[

samplePos

]

)

;

}

// compensating the delay of the IIR filter by delaying osc2

for

(

int

i

=

0

;

i

<

IIR_NZEROS

;

i

++

)

{

osc2Phase

+=

(

2

*

Math

.

PI

*

osc2Freq

)

/

SAMPLERATE

;

if

(

osc2Phase

>=

2

*

Math

.

PI

)

osc2Phase

-=

2

*

Math

.

PI

;

}

for

(

int

samplePos

=

0

;

samplePos

<

samplesRead

;

samplePos

++

)

{

osc2Phase

+=

(

2

*

Math

.

PI

*

osc2Freq

)

/

SAMPLERATE

;

lp_H

[

samplePos

]

*=

Math

.

sin

(

osc2Phase

)

;

lp_L

[

samplePos

]

*=

Math

.

cos

(

osc2Phase

)

;

abBufferDouble

[

samplePos

]

=

lp_H

[

samplePos

]

+

lp_L

[

samplePos

]

;

if

(

osc2Phase

>=

2

*

Math

.

PI

)

osc2Phase

-=

2

*

Math

.

PI

;

}

// demodulating (multiplying samples with the carrier again)

/*for (int samplePos = 0; samplePos < samplesRead; samplePos++) {
demodPhase += (2 * Math.PI * carrierFreq) / SAMPLERATE;
abBufferDouble[samplePos] *= Math.sin(demodPhase);

if (demodPhase >= 2 * Math.PI)
demodPhase -= 2 * Math.PI;
}*/

baos.

write

(

getBytesFromDoubles

(

abBufferDouble, samplesRead

)

,

0

, samplesRead

*

2

)

;

}

}

catch

(

InterruptedException

e

)

{

}

tdl.

stop

(

)

;

tdl.

close

(

)

;

writeWavFile

(

baos.

toByteArray

(

)

, baos.

size

(

)

/

2

,

"output.wav"

)

;

}

public

static

void

main

(

String

[

]

args

)

{

AudioFormat

audioFormat

=

new

AudioFormat

(

AudioFormat.

Encoding

.

PCM_SIGNED

, SAMPLERATE,

16

,

1

,

2

, SAMPLERATE,

false

)

;

DataLine.

Info

info

=

new

DataLine.

Info

(

TargetDataLine

.

class

, audioFormat, BUFFERSIZE

)

;

TargetDataLine

targetDataLine

=

null

;

try

{

targetDataLine

=

(

TargetDataLine

)

AudioSystem

.

getLine

(

info

)

;

targetDataLine.

open

(

audioFormat, BUFFERSIZE

)

;

System

.

out

.

println

(

"Buffer size: "

+

targetDataLine.

getBufferSize

(

)

)

;

}

catch

(

LineUnavailableException

e1

)

{

e1.

printStackTrace

(

)

;

}

// creating the recorder thread from this class' instance

SSBWeaver ssbWeaver

=

new

SSBWeaver

(

targetDataLine

)

;

Thread

ssbWeaverThread

=

new

Thread

(

ssbWeaver

)

;

// we use this to read line from the standard input

BufferedReader

br

=

new

BufferedReader

(

new

InputStreamReader

(

System

.

in

)

)

;

ssbWeaverThread.

setPriority

(

Thread

.

MAX_PRIORITY

)

;

ssbWeaverThread.

start

(

)

;

System

.

out

.

println

(

"Recording... press ENTER to stop recording!"

)

;

try

{

br.

readLine

(

)

;

}

catch

(

IOException

e

)

{

e.

printStackTrace

(

)

;

}

ssbWeaverThread.

interrupt

(

)

;

try

{

// waiting for the recorder thread to stop

ssbWeaverThread.

join

(

)

;

}

catch

(

InterruptedException

e

)

{

e.

printStackTrace

(

)

;

}

System

.

out

.

println

(

"Recording stopped."

)

;

}

}
About me


I'm Nonoo. This is my blog about music, sounds, filmmaking, amateur radio, computers, programming, electronics and other things I'm obsessed with. ... »
Listening now
My favorite artists