May 4th, 2008 | Last modified: November 8th, 2011
Pictures
This is how it looked like when I got it:

And this is how it looks like now:

More images are here.
Schematics
The circuit has been designed in PCBExpress, you can download the .sch and .pcb files here.
PDF version of the schematics is here.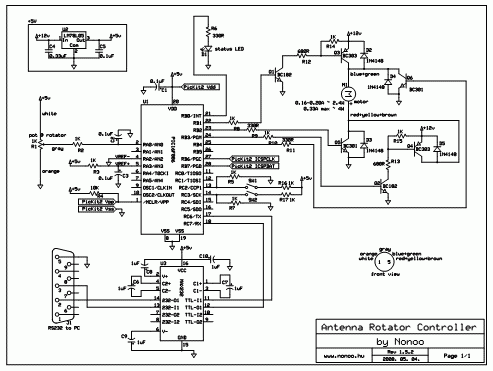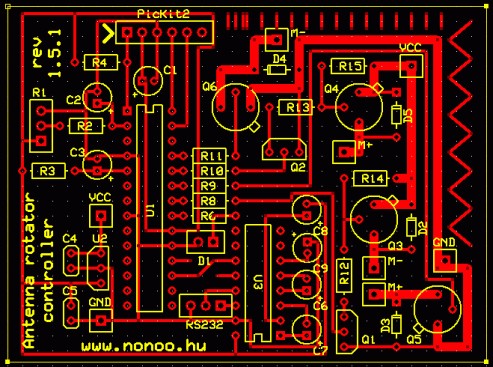 Features
nearly 360° degrees rotation
error protection – controller stops rotation when the antenna doesn't turn, but rotation is on, watchdog timer for resetting the controller on failure, bounds checking
RS232 (serial port) communication with Hyperterminal (or Minicom on Linux), easy and fast commands, built-in help
Rotation speed measurement, estimated time calculation ;)
16 individual positions can be saved with position names (up to 13 chars), saved in controller EEPROM
About the controller
The controller is a PIC16F886. I used Hi-Tech C compiler for writing the program.
You can download the source code here.
It uses Timer1 for blinking the status LED and Timer2 for pot change protection (there is a pot in the rotator which turns when the rotator is rotating, and if the rotation is on but the pot doesn't turn, it shuts everything down).
Otherwise the code is (trying to be ;) really simple, so check it out.
There are 4 medium-current transistors, they power the motor with the required voltage polarity. The serial line is handled via a MAX232 IC.
I've added 2 buttons in my room near my little desk so I can rotate without using serial console. This is not reflected on the circuit drawing.
Available commands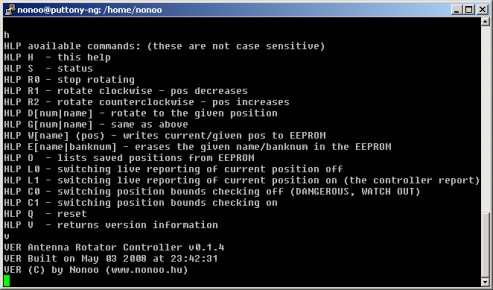 Previous posts
Rotator demo video #2
Short rotator demo video
Antenna rotator take #2
Antenna rotator renewing
Trackback responses to this post
//} // end separate trackbacks ?>
About me


I'm Nonoo. This is my blog about music, sounds, filmmaking, amateur radio, computers, programming, electronics and other things I'm obsessed with. ... »
Listening now
My favorite artists